Google Local Service Ads for Lawyers
Are you a lawyer or law firm looking for ways to improve your online presence? If so, you may be interested in Google Local Service Ads.
In this post, we'll look at what these ads are, how they work, and the benefits they can offer your business. So whether you're just getting started with online marketing or looking to expand your reach, read on to learn more about Google Local Service ads for lawyers.
What are Local Service Ads?
Google Local Service Ads are a new type of ad format offered by Google that allows businesses to promote their services to local customers. These ads appear above the Maps section on the Google Search results page. They give businesses the ability to highlight their services, hours, and contact information.
Local Service Ads are an excellent way for lawyers to reach potential clients who are searching for legal services in their area. When potential clients search for lawyers on Google, they'll see your ad and your firm's name, contact information, and a rating based on customer reviews.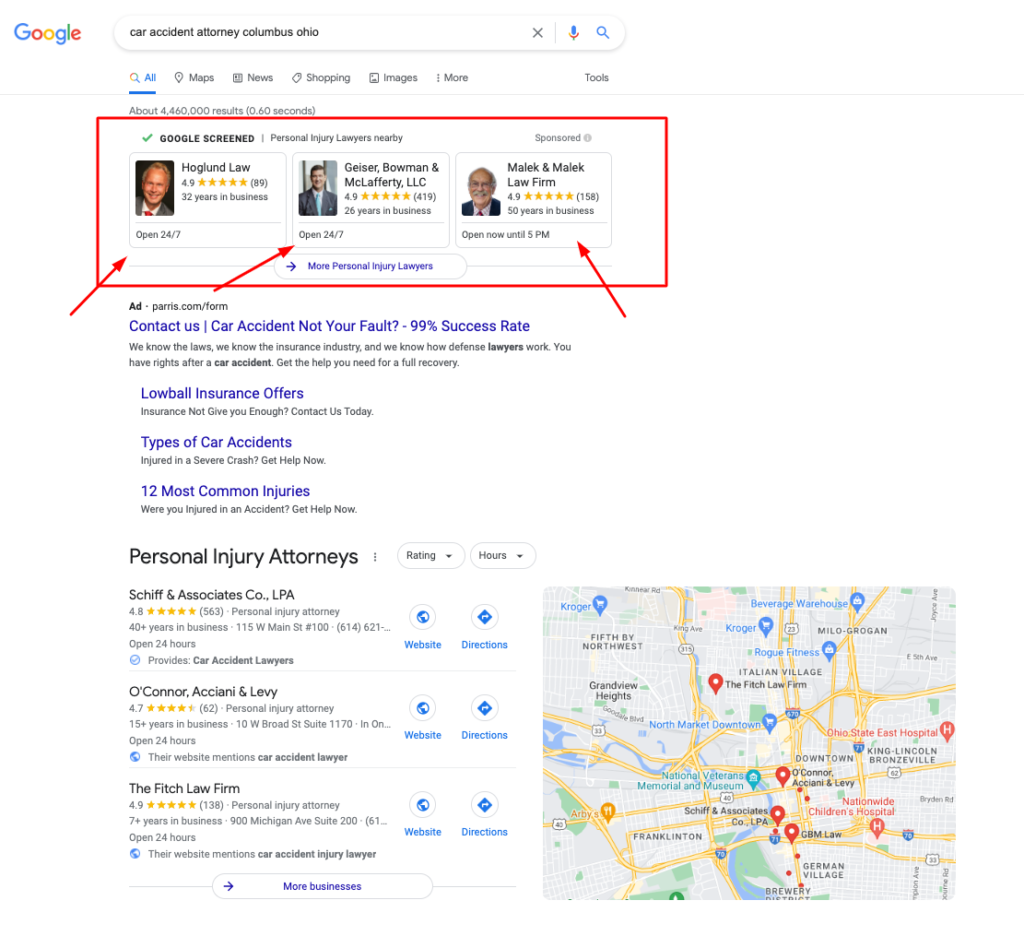 How Google Local Service Ads Work 
Google Local Service Ads work in two main ways:
1. Targeting
When potential clients search for lawyers on Google, they'll see your ads based on the keywords they're searching, their location, and other relevant factors. You can also target specific types of customers by choosing a service category that best aligns with your practice.
2. Tracking and Reporting
Google Local Service Ads also provide detailed reporting on how your ads perform, like the number of phone calls you received from your LSAs and how much it cost to acquire that phone call. This allows you to track the effectiveness of your ads over time and make any necessary adjustments to improve their performance.
Overall, Google Local Service Ads offer a powerful way for lawyers to reach potential clients and grow their businesses. If you're looking for ways to improve your online presence, Local Service Ads are definitely worth considering.
Contact our digital experts at OppGen today to find out what you should be paying for LSA leads in your area. 
Local Service Ads Work Best with a Multi-Channel Approach
In our experience, our legal clients who run Local Service Ads tend to get a better lead quality and a lower cost per lead vs. running a traditional pay-per-click advertising campaign.
The clients that see the highest lead volume, best lead quality, and lower costs are firms that take a multifaceted approach to their digital marketing, including:
Setting Up Your Local Service Ads Account
If you're interested in using Google Local Service Ads for your law firm, the first step is to apply to be part of the program. You can do this by filling out an application form on the Google Local Services website.
Once you've been approved, you'll need to set up your account and provide some basic information about your business.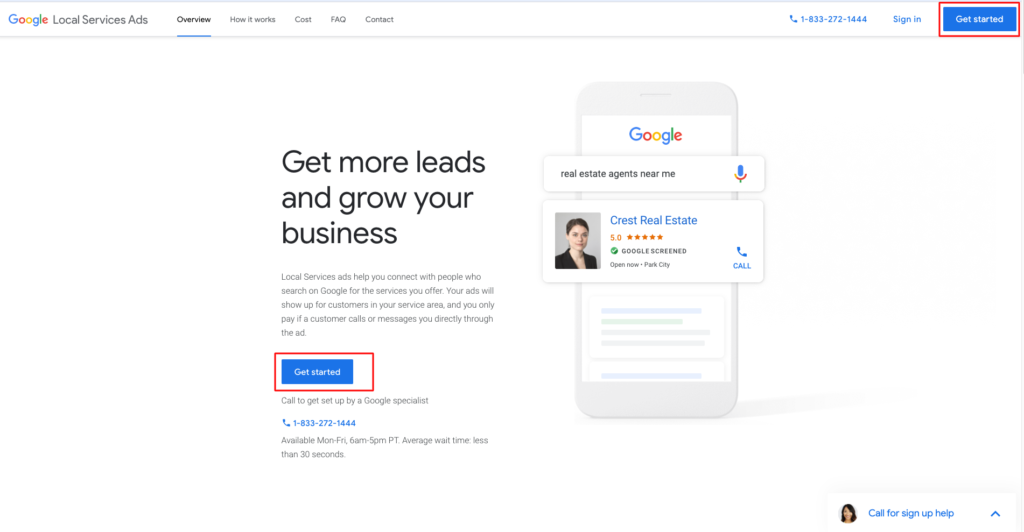 What Do You Need to Be Approved for Local Service Ads?
In order to be approved for Google Local Service Ads, you'll need to meet a few basic requirements.
First, your business must be registered with Google My Business. You'll also need to have a website and provide some information about your business, such as hours of operation and services offered.
Your business must be located in an area where Local Service Ads are available. Currently, this includes selected metropolitan areas across the United States.
Requirements for Google Local Service Ads for Lawyers
In order to have a Google Local Service Ads profile, you need the following items:
Business or Firm Photo
You can upload photos of or related to your law firm. You'll also need to pick a company photo to be the cover photo for your account's profile. That picture must be of or related to your law firm.
Business photos need to meet these standards:
JPEG, PNG, TIFF, BMP, ICO, or WEBP file types
High quality resolution (at least 640 x 640px)
Max file size of 10 MB
The cover photo aspect ratio needs to be 16:9 with a minimum size of 1440 x 810px
You have to own the copyright to all images
Trademarks, watermarks of other firms, text, personal information, transparent backgrounds, clients or customers, or frames, borders, or collages cannot be used on the photo.
Law Firm Background Check
Google partners with local background checking agencies to perform background checks of law firms and other businesses running LSAs. These background checks are totally confidential and free for your firm.
The depth of these background checks can vary from service to service. For example, for personal injury lawyers, Google's local background check partners will audit the following areas:
Owner information
Business business information
Malpractice insurance
State bar licenses for each attorney at your firm
Owner background checks concentrate primarily on identity and criminal records. If your firm has multiple owners, each owner will undergo a background check.
For the business, the background check will pay attention to items like civil litigation involving your firm. This will be at the federal, state, and local levels.
For some firms and attorneys, malpractice insurance may also be required, but this varies from state to state.
Billing Information
You need to input your billing information to Google, so they can charge you when you get a lead. This can either be done through an existing Google Ads account or through your new account, with a different card.
The Power of Customer Reviews
Google will look at your Google Business Profile's customer feedback and reviews when reviewing your status. The more authentic, positive reviews you have, the better. Be sure to encourage your happy clients to leave a positive review on your Google Business Profile.
Attorney Headshot Images
You will also need a headshot image of one or all of the attorneys at your firm. You can also add individual headshots of your attorneys that will show up on your firm's profile page.
Headshot image files need to meet the following requirements:
JPEG or PNG file type
High quality resolution (at least 500 x 500px)
Max file size of 10 MB
Square aspect ratio
You need to own the copyright for all the images
Has to be a photo of someone who works at your firm
The shot should only be of the head and shoulders (shoulders up)
The attorney's face must be centered in the image, and looking at the camera
Neutral background
Does not include text on the image
Is not in black and white
Does not have excessive color filters
Business License Information
You'll have to give Google your business license information as part of being a member of Google Local Service Ads.
Google's background check partners will also verify your business licenses and insurance. Be sure this information is up to date and correct.
Keep in mind that if you do fail the background check your first time through, you have to wait 30 days to reapply. If you fail again, you have to wait a full year before reapplying.
Triple-check all your and your firm's information to make sure it is 100% error-free before submitting it to Google.
Budget and Bidding
The LSA bidding and budget system are different from search and display ads. You submit a budget to Google, and Google will give you an approximate lead volume estimate for that budget.
Unlike PPC, you pay for leads, not clicks. The LSA platform allows you to dispute spam or junk leads, so you can actually get refunds for irrelevant leads.
Specifics for Local Service Ads for Lawyers
You must provide Google with information about each of your attorneys, including their names, state bar licenses and checks, bar exams, and specialty areas.
One of the most crucial parts of this process for law firms will be specialty areas. Some practice areas have a lot of sub categorical specialties to them. The more specific you are about the areas in which your attorneys excel, the easier it will be for search users in your area to find your firm through LSAs.
Benefits: Local Service Ads for Lawyers
Google Local Service Ads offer a range of benefits for lawyers looking to grow their online presence and attract new clients.
1. Get More Qualified Client Leads
Local Services Ads help attorneys and law firms connect with your local target audience, for search users looking for the exact services you offer. Your ads will show up for customers in your service area, and you only pay if a customer calls or messages you directly through the ad.
2. Earn New Clients' Trust with a Google Badge
You may have noticed the "Google Screened" badge and green checkmark in the first LSA image.
After you go through the LSA application and approval process, you can become a Google Screened or Google Guaranteed provider, earning you or your firm a badge. A Google badge shows an added layer of credibility, which gives potential clients more confidence to contact you for your services.
3. Show Up at All the Right Times
Your ads appear on Google Search and on the Local Services site when locals look for services like yours. Get your business to show up at the right time so it's easy to find you when they need you most.
4. Only Pay for Results
Set your budget and only pay when a customer gets in touch directly from your ad so you can focus on your business.
5. Dispute Lead Quality
Does Google stick by that you only pay for your results?
Yes. Google also gives firms the ability to dispute lead charges within 30 days of when you received that lead.
If you feel that a lead doesn't meet your standards or was invalid — Google makes it easy to dispute it with just a few clicks.
By the end of the following month, Google will credit your account for any approved lead disputes. You will notice in billing that the original lead charge will still appear at the top of your invoice, but you will notice a message at the top of the lead, letting you know if your dispute was approved or not.
How to Get More Visibility with LSAs
Your firm's reputation on Google matters. Firms with more high-quality reviews that get reviews more consistently show more often in the LSA section. Even more so than firms with good reputations that have fewer reviews, and/or haven't gotten a review in over a year.
Local Service Ads for Lawyers: Setting an LSA Budget
Google Local Service ads make it easy for attorneys to gauge an LSA budget for their campaign. On the homepage for Google LSAs, just scroll down until you see the below section and fields.
From there, you can:
Enter your zip or postal code
Input how many leads you want per month
And the industry your firm is in
Click "estimate budget"
Google will provide an approximated budget for you based on your location, practice area, and your goal lead volume.