In the fourth quarter of 2019 alone, our agency audited over 50 different websites for local businesses across the United States. These businesses spanned a variety of verticals, from medical clinics to fitness centers. While some of these local businesses had multiple locations, most were limited to a single location.
In our quest to understand the state of local SEO for some of the verticals we work with, we gathered data from our audits to discover the major failing points for most businesses.
Our audits are based on a 100-point system that's comprised of separate scores for local, technical, and on-page and off-page SEO. These scores are then used to determine a letter grade. 
You'll notice that none of the websites we audited received an A. This was not a mistake or an oversight; our audits judge websites using strict measurements.
1. Most websites audited received an F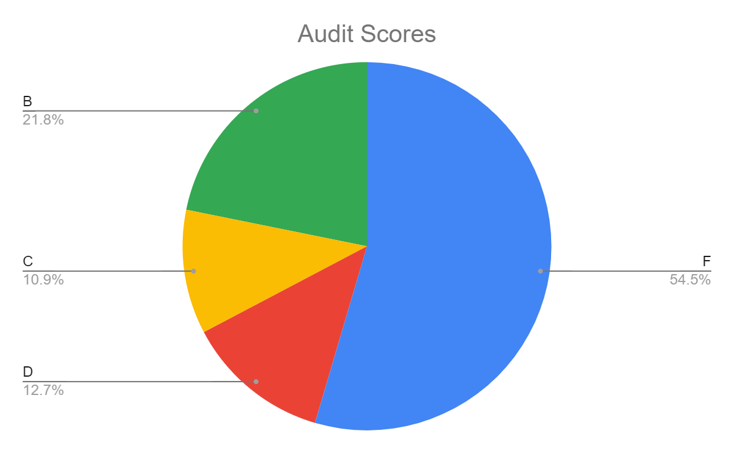 It may surprise you to know that on average, the local businesses we completed an SEO audit for received an F. This is due to a variety of factors that weigh into our audit process, but overall, most of these businesses are doing a poor job in terms of SEO.
Why is that? For the most part, this is because most local businesses don't have an SEO strategy to begin with. We found that a lot of small businesses simply launch their websites and forget about them. At least, that's how it appears from an outsider's perspective.
There are, no doubt, plenty of reasons why a small business might not have an SEO strategy. The important takeaway here is that most local businesses need help with SEO.
2. 18% did not have a Google My Business listing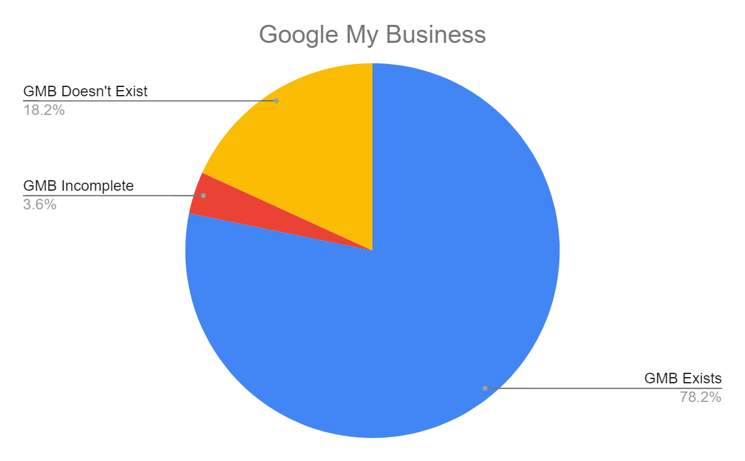 Google My Business is essentially the end-all and be-all for local SEO. It's the large snippet that appears to the right of the search results page when you search for a specific business name.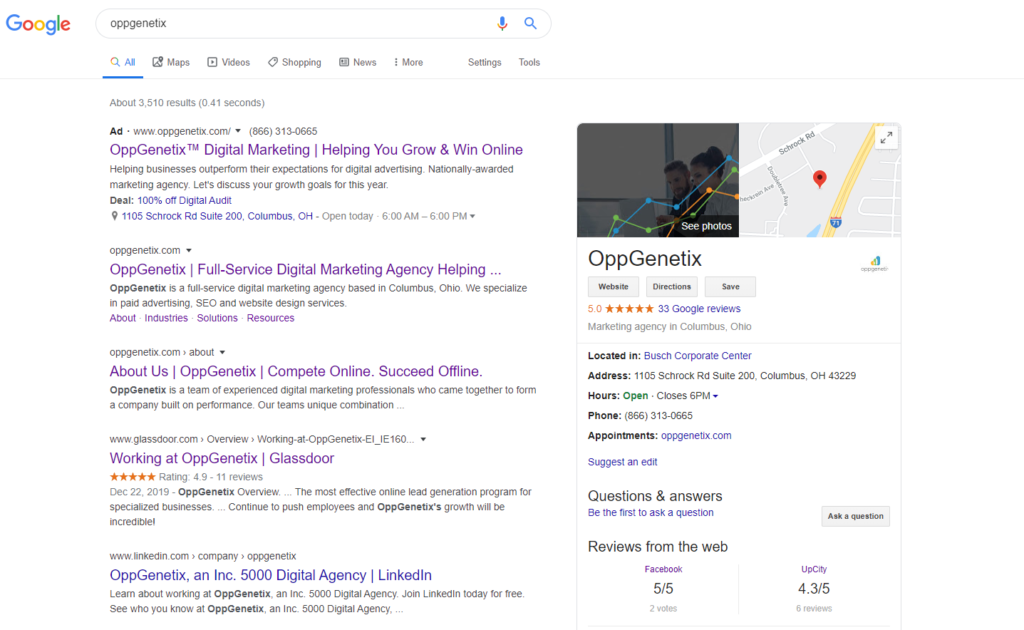 The Google My Business listing is extremely important for local businesses. It gives searchers a quick and easy way to find a business's location, hours, phone number, reviews, and descriptions of products and services.
According to a 2019 study by BrightLocal, 5% of searches for a local business resulted in a click on a Google My Business listing. That's a good portion of clicks that should be capitalized on.
3. 47% did not have a Bing Places for Business listing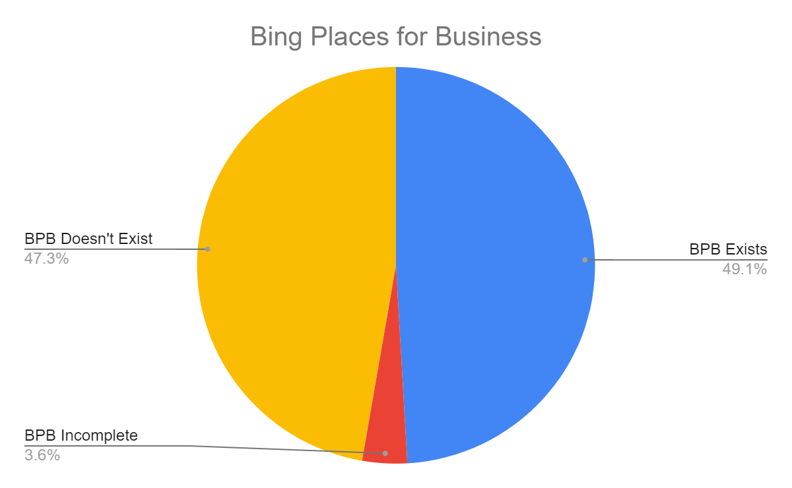 It's a well-known fact that Bing is second to Google. It accounts for ~2.5% of all online searches. Even though Bing doesn't receive as much search volume per month as Google, it's still a very important resource for most people, especially for those in older demographics.
4. 83% had very poor mobile load times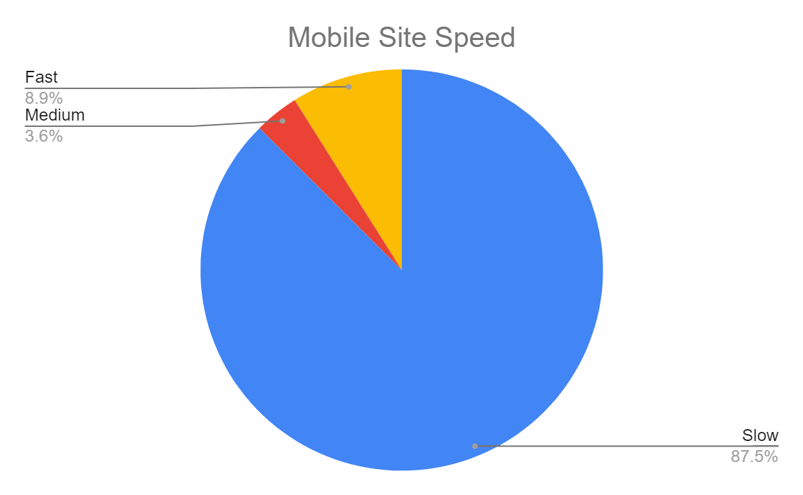 This one may not surprise you as much, but most of the websites we audited had very, very low mobile speed scores. We use Google PageSpeed Insights, Pingdom, and GTMetrix to measure page load times for our audits.
Since Google's PageSpeed tool is stricter and more difficult to please, we place more weight on the score it gives (after all, their search engine matters the most). We found that most of the websites we audited received a score of 25 / 100 or lower.
For those who aren't fully steeped in the world of SEO, Google announced at the beginning of 2019 that they switched to mobile-first indexing. That means their search engine looks at the mobile version of websites first before determining how to rank them on the search results page.
5. Tags and meta descriptions are neglected
One of the legacy pillars of SEO involves optimizing title tags, h1 tags, alt tags, and meta descriptions of a website with target keywords. Most SEO consultants will bring this up at some point or another, and although it's a minor component of SEO, it's still considered a best practice to this day.

When we looked at our audit data as a whole, we found that most of the websites we audited did not have a keyword strategy that utilized these on-page optimizations. That means there are opportunities left on the table to help search engines better understand what's being presented to them.
6. Content is usually thin and vague
When our team read through the content of the websites we audited, a pattern emerged early on: the information was forgettable. We found that even highly specific pages did not offer real value to the customer. In fact, most pages had about a single paragraph of vaguely descriptive content that anyone would most likely brush off within a few seconds.
This is a major concern since search engines use content to analyze and rank pages. If content is thin, high organic rankings are likely to be even thinner. Search engines thrive off of detailed, robust, and readable content.
Just remember, SEO = content and content = SEO.
7. Structured data hasn't been adopted
Our audits were created to judge websites against the highest standards and best practices for SEO. Even though Google has made several statements explaining that structured data isn't a ranking factor, we still place importance on implementing it on every website.
You may be asking yourself, what in the world is structured data? Structured data is simply a block of code that sends specific information to search engines explaining what a website or page is about. It can come in several different formats, such as Microdata, Schema, and JSON-LD, but typically it will look something like this:

Over time, we can only assume that Google will place more and more weight on structured data since it feeds information about a website directly to its search engine. The more information Google has, the better the search engine results will become (we hope).
8. Internal linking is a rarity
About 90% of the websites we audited had no internal links throughout their content. This insight isn't so much of a surprise as it is a wake-up call. SEOs need to do a better job of educating their clients about this specific aspect of on-page SEO.
In defense of business owners, most people do not intuitively think to include hyperlinks to internal pages in their content. Nevertheless, it's another big opportunity for these local businesses to feed search engines a better picture of their site's architecture.
9. Most have less than 10 Google Reviews
Looking for reviews on a product or service is an unconscious habit. You don't have to think about it; you just do it. It's part of everyone's innate evaluation process when they're seeking out the best option for their want or need.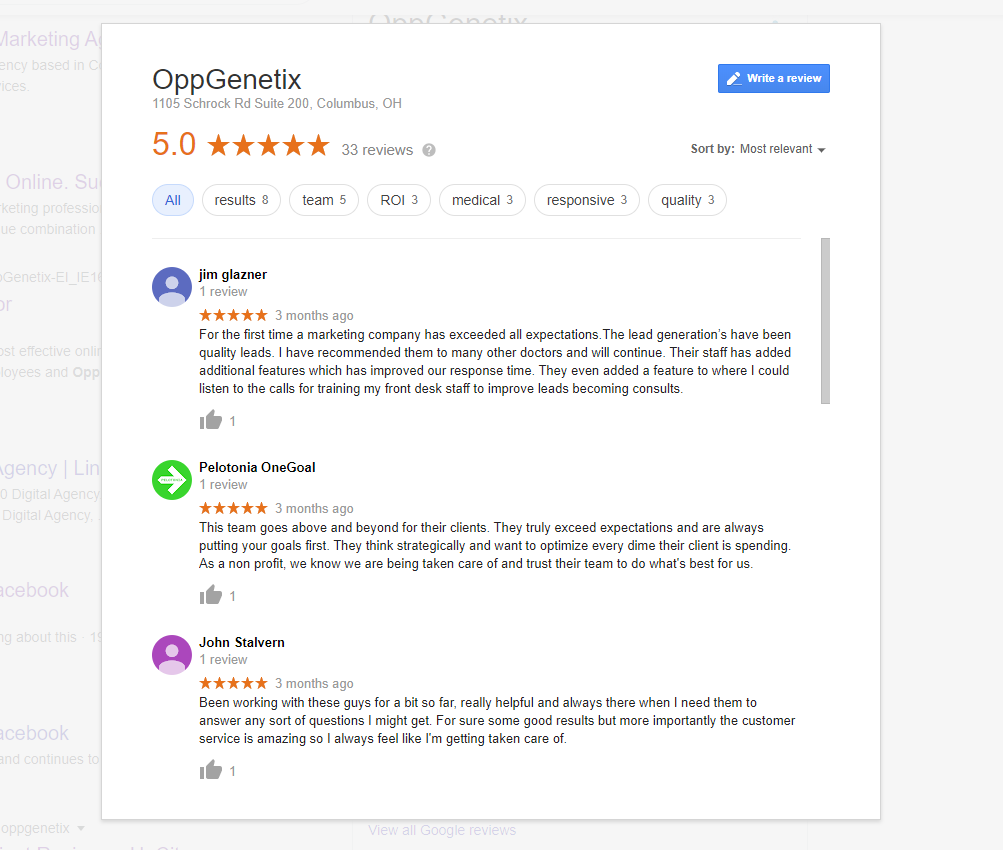 Google reviews are an important component of off-page SEO. You want every aspect of your business to be working for you, and that includes reviews. If a local business doesn't have a review management strategy, they're missing out on a ton of opportunities to stand out among competitors that have fewer reviews.
10. Robots.txt and sitemap.xml errors are uncommon

Despite all you might have heard about ensuring that a website's robots.txt and sitemap.xml files are implemented correctly, we found that most sites were free of mistakes (except for one site that was completely blocked by their robots.txt file).

These issues have largely been resolved with the advent of modern content management systems since a lot of websites are built with WordPress and Squarespace. But it's still important to double-check these two files for any technical issues they could be causing. You may just find that one character is preventing your entire site from being indexed.
Want to see how your site stacks up to our findings? Request a free audit!
It's one thing to think you know how your site is performing, but it's another to have an SEO agency review your site's performance for you. Regardless of what you may think of your website, it always helps to have a fresh pair of eyes take a hard look at it.