Find More Clients for Your Personal Injury Law Firm
It doesn't take more than driving a few miles on the highway or searching "personal injury lawyer" on Google to realize that personal injury law is one of the most heavily marketed law segments. This makes acquiring new personal injury cases consistently and profitably a major challenge for law firms. 
We're here to shed light on understanding the marketing side of it better while answering important questions that we typically come across from attorneys practicing personal injury law. 
The 2 most important variables in driving marketing success for your personal injury law firm are:
1. Cost
A highly competitive personal injury law space has allowed large firms to dominate case acquisitions by driving up advertising investment to a point where it is much tougher for smaller law firms or solo practitioners to participate in. 
The reality is that the more you spend in ads, the more phone calls you're going to get in this space. It is unfortunate that firms with extremely large budgets that may not necessarily care as much about their clients in comparison to a boutique firm end up winning more cases by keeping the cost of entry very high. 
For example, a click on Google for "car accident lawyer dallas" costs as much as $345. 

While less populated cities and states may have a lower cost per click averages, there continues to be large firms advertising in those markets as well. To get a realistic gauge of what investment level is required for your case acquisition goals, speak to other personal injury attorneys in your market and get a rough estimate or talk to a savvy digital marketer to get a ballpark figure. 
Ultimately, there is a minimum amount of investment required for a given period of time before advertising can be deemed effective. Amounts lesser than what is required significantly reduce the chances of capturing demand for your services.
2. Time
For lawyers, the concept of "time is money" definitely rings true. Not every personal injury attorney needs to spend millions of dollars in advertising to generate cases. If they have the ability to put out extremely helpful and focused content for their audiences through their website and social media channels, they can build an organic following, which will be fruitful in bringing in clients. 
Google's algorithm is rewarding to websites that provide simple, informative and user centric content along with efficient online experiences. If a law firm devotes time to prioritize building a community around their personal injury services instead of dumping millions in advertising, it can be extremely cost effective in building brand while also acquiring new cases.
Building a sustainable personal injury law brand takes holistic effort and patience. 
As a personal injury attorney, you must see tons of adverts from marketing companies promising profitable cases at low costs. If the chances of success from these strategies were guaranteed these companies would be market leaders but unfortunately the reality is that not everything works for everyone. 
Being in the right place at the right time while successfully communicating your law firm's competitive advantage becomes the defining factor for acquiring cases. 
Moving away from the mindset of looking for silver bullets towards building a reputable brand with positive reviews and credibility makes for a sustainable marketing future for your personal injury practice. 
Let's look at an example:
An individual gets injured in a car accident and proceeds to search online for a "personal injury attorney" They get served an ad and decide to call your law firm for a free consultation. 
After they speak to an attorney, they have a legitimate claim, and they are sent paperwork to sign up. 
Just like any rational person, before signing up, they are curious about your law firm's reputation and proceed to read reviews. If your firm has terrible reviews on Google, it is highly unlikely that they will sign up with you. 
Lesson: It didn't matter if you invested in ads and got a phone call. Ultimately, the prospect didn't sign up because your firm had not prioritized building their online reputation to compliment the experience on the phone. 
For the sake of simplicity, let's break up marketing channels into 2 segments:
1. Awareness
TV (linear or connected) 

Radio

YouTube

Billboards

Social media 
Ads served on TV, radio or billboards offer immense reach to personal injury law firms. Although it may seem like a crowded space, it does help build a large amount of credibility among prospective audiences. 
Since these awareness channels are typically through an audio or video medium, law firms can communicate their message loud and clear. Personal Injury cases are based on an incident occurring so being top of mind before someone gets injured becomes important in them reaching out after. 
Apart from asking audiences to take an action immediately, these awareness channels can also be utilized to educate. When a personal injury law firm educates their audiences in awareness channels and does not ask anything back in return, people subconsciously associate credibility with the firm's brand. 
As effective as these channels may be in driving awareness, they are harder to track back to an individual case. For example, trying to calculate a cost per case acquisition from a TV, radio or billboard initiative is much harder than leveraging an online experience with a clearer attribution process. 
2. Lead Generation
Text search ads on Google and Bing (PPC)

Local Services Ads on Google 

Organic traffic to your website through SEO 

Referral traffic from listing websites such as Avvo, FindLaw, SuperLawyers etc
Typically, when someone gets injured is when they actively start looking for an attorney to help them get justice. Looking for an attorney can start with doing online research to understand requirements or process as well as short listing the most reputable lawyers in their vicinity. This is where having an online presence is extremely important for any personal injury law firm. 
Pay Per Click (PPC) Ads on Google & Bing 
One of the most immediate methods to capture targeted traffic in a given geography is through pay-per-click ads. The 2 most dominant search engines that offer these services are Google and Bing. Here's examples of what Google search ads look like: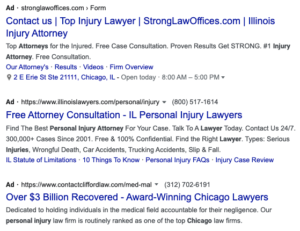 What components are needed to run an effective PPC campaign?
Relevant keywords:

Based on the types of cases your law firm handles within the personal injury umbrella, a list of carefully crafted keywords needs to be created to run ads on. These keywords need to be highly intentional so users that are actively looking for a firm click on your ads. We recommend interviewing previous clients and asking what they would have searched for if they were looking for your services. Here are some common examples:

Personal injury attorney near me

Best personal injury law firms

Personal injury lawyers (city name) 

Top rated personal injury attorneys

Car accident attorney 

Advertising copy

: Messaging that helps your personal injury law firm differentiate from the rest is very important in standing out from the pack. Aspects of your firm such as your winning percentage, client reviews, services offered, years of experience are all great examples of what ads can contain. A clear call to action on what a prospect can do next can also help with setting expectations early on. 

Web experience:

Having the right keywords and creative ads are one thing, but the post-click experience is just as important. Making sure that your ads are aligned with the content provided on your website or landing page is extremely important in generating a conversion. For example, when a prospect clicks on an ad for a "car accident attorney" search term, they should be taken to a page that goes into detail about how your law firm can help them with their car accident case. This means having content that builds credibility while providing helpful information, such as:

Frequently asked questions about car accident cases

Your law firm's success for winning car accident cases

Reviews for previous car accident clients

Clear next steps on how to deal with insurance companies or hospital bills if someone was injured
Having the right goal tracking, such as phone calls and form submissions, will help your personal injury law firm understand the amount of people that are reaching out to your business from PPC ads. Once a lead is generated, there should be a streamlined process on how the lead is contacted and nurtured. Personal injury attorneys go as far as providing a "free consultation" to all new leads. 
It has to be said that due to the immediate nature of capturing this type of traffic through PPC advertising, it is highly competitive. This makes PPC ads quite expensive for personal injury attorneys. 
Local Services Ads on Google
Another highly effective digital advertising strategy on Google search for personal injury lawyers is running Local Services Ads (LSAs). 

Local Services Ads allow personal injury attorneys to directly receive phone calls from Google. There is a thorough screening process including a background check that Google has put in place through which LSAs can be enabled. The ad mainly utilizes a law firm's Google My Business profile to create the ad as it shows the total number of reviews the firm has received along with years of experience, operating times and a photo of the attorney.
We find Local Services Ads to be a crucial part of an advertising strategy because they are:
Easy to manage in comparison to PPC Ads

Utilize your law firm's existing reputation through Google My Business

Allows for a pay per phone call model where irrelevant calls can be disputed for refund

Relatively affordable in comparison to other advertising strategies
Organic Traffic Through Search Engine Optimization (SEO) 
Attorneys usually run away when marketers talk about SEO. It sounds like a buzzword that they have paid marketing agencies thousands of dollars over the years with no quantifiable way to understand it's impact. It is safe to say that many personal injury law firms have been burned in the name of SEO services offered. 
We are here to offer a practical take on why SEO is important and what aspects of it need to be the guiding principles of measuring its impact. 
Why is SEO important for personal injury attorneys? 
Not everyone who searches on Google only clicks ads. There are a large percentage of users who scroll past ads and try to find what they are looking for below the fold. This is because organic listings can include more geographically relevant information such as listings on maps while also providing more detailed information on what someone is searching for. 
Based on the historical relationship people have with advertising, they prefer finding an attorney to represent them through their own research versus feeling like they were sold something. This organic method of finding an attorney is the reason why visibility for your law firm through search engine optimization is extremely important. 
We can break this up into local SEO on Google Maps and organic listings that show up on the results page. 
Local SEO
Your local SEO is dependent on your firm's proximity to where the user is located. Your visibility is dependent on how well managed your Google My Business page is. To make sure your law firm gets the most visibility we recommend receiving and responding to reviews, making sure all your information is up to date while explained in detail, including relevant media (photos and videos on your page), showing accurate hours of operation and any important links to your website or social media pages. 
Organic Listings
Organic listings take into account how your website is structured, what information it provides for your services and if it offers a high-end user experience which would include aspects such as speed, mobile optimization etc. 
As a rule of thumb, providing as much relevant and helpful information possible on your website is key in ranking for organic listings. This information can't be fluff but should contain in-depth answers to real questions and concerns prospective clients may have about their personal injury cases. 
An easy way to do this is to record 10 to 15 prospect calls and make a list of all the topics that people have questions about. Writing content around all those topics will give you an idea of what people are looking for the most and if they can find that information online, they are more likely to give your law firm a call in regards to their case. 
Working on organic brand building does not lead to an immediate increase in personal injury cases. It takes time and effort to build up a library of content, which Google's algorithm indexes and shows for keyword queries. As your overall web visibility goes up from that content, you start to get more traffic and conversions from your website. 
If your website is technically sound and your personal injury law firm continues to put out helpful content, your online visibility will continue to increase. This requires patience and a ton of effort in generating better content than your competitors. 
We hear this question quite a bit. The answer depends on what your goals are and what resources you have available to invest in your brand. 
If you have a large advertising budget and are looking for an immediate increase in cases, you can go the PPC route. This can be an expensive endeavor and results are not guaranteed as there are many factors that make or break an effective PPC campaign. Personal injury law firms end up paying between $2,000 to $5,000 per case acquired through this channel and if their margins are good, they will be profitable in sustaining their investment. 
If you care about building a brand and a reputation in your market for the long term while also not being 100% reliant on investing in advertising then focusing on SEO becomes very important. Although it takes more time to see results from SEO, it is essentially free traffic that prioritizes the value you provide for your future customers. It pays dividends in the long run.  
Our recommendation is to invest in both paid and organic because putting your eggs in one basket is not the best solution. 
We have created a detailed guide on marketing for personal injury attorneys that goes into greater depth about different strategies. 
Many marketing companies have gone into the business of generating personal injury leads and then selling them to personal injury law firms. There are pros and cons of indulging in buying these leads. 
Pros
When buying leads, you do not have to worry about generating your own. This can be cost effective for law firms that aren't interested in building up their brand. 

If the leads are high quality, they can be profitable in generating revenue for your firm. 

You do not have to worry about investing into your online reputation, website or other advertising products.
Cons
At times these lead generation programs are too good to be true as the leads are sold to multiple personal injury law firms at once. This may cause the client to be overwhelmed by the amount of attorneys reaching out to them.

These leads can be unpredictable in quantity and quality since they are generated through channels that are unknown to the law firm. 

They can be expensive and results are not guaranteed.
If your goal is to build an excellent highly reputable law firm, we recommend investing in your brand while also trying strategies like these. As mentioned, it is not in your best interest to stick to 1 strategy but try multiple lead generation strategies over time. 
If you are looking for ways to market your personal injury law firm, the best thing to do is to emulate your client's behavior from the time they get into an accident to when they receive justice. 
Becoming part of that journey to help a prospect with the information they need when they need it is how personal injury law firms continue to grow in their markets. 
Our strategies have proven to consistently generate cases for our personal injury clients over the years. If you have any questions regarding your law firm's marketing, please reach out to us and we will be happy to help.