Google to launch all-new YouTube ad extensions
As Google continues their focus on user action across their ad platforms, the company is beginning to roll out all-new features positioned to help more consumers take lower-funnel actions.
An example of this are YouTube's new ad extensions that should be releasing soon. In order to further align with Google Search Ads, YouTube plans on releasing additional ad extensions, typically displayed underneath a video ad, with the goal of provoking more consumer action, or clicks ($$$), on YouTube ads.
Current YouTube ad extensions include location and form extensions (in beta). While these are an OK start, we are excited to finally get more actionable options for our YouTube advertising clients. Up until now, YouTube has typically been viewed as a brand awareness play. Given that 8 out of 10 18-49 year-olds watch YouTube (via Brandwatch), the ability to expand these ads with more actions should be a welcome sight for many.
The types of new YouTube extensions our team has seen so far include:
Movie theater showing times
Travel booking options
App downloads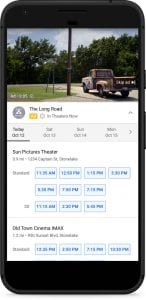 It is unclear when these new ad extensions may be available to all YouTube advertisers. Knowing Google's seemingly unstructured release schedules, we recommend continually checking your interface for the new options. It does appear beta versions of the YouTube ad extensions have begun rolling out for larger advertisers, such as Chili's and Maybelline.
For more information, view the release at Google Ads.