According to a 2019 Statista survey, more than a quarter of Americans have tattoos. However, roughly 23% of those who responded said they experienced regret after getting their tattoo, which means a solid 77% said they don't regret getting a tattoo.
This means laser tattoo removal businesses (or medical spas or clinics offering laser tattoo removal services) are trying to find a specific (possibly even a niche) audience. Traditional marketing strategies, being broader and less specific, are not going to be as effective in bringing in clients who want to have their tattoos removed. 
Laser tattoo removal businesses should focus on creating digital marketing strategies either alongside traditional strategies or ditching those more traditional strategies altogether.
OppGen can create customized digital marketing strategies to help bring more patients into your clinic. Contact us to learn more.
Find People Who Experience Tattoo Regret
As with any marketing strategy, you need to have an audience in mind. Your audience certainly includes people with tattoos, but it has to be more specific than that. Remember, 77% don't regret getting their tattoos. You need to focus on people who are more likely to regret their tattoos as well as why they regret their tattoos. A few of the most common reasons for tattoo regret include: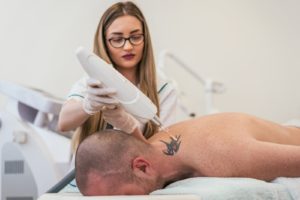 Tattoo is an ex's name

Getting a tattoo while under the influence

Once-trendy tattoo is no longer trendy

Limited clothing options due to tattoo placement

Tattoo limits job and employment opportunities

Low-quality tattoo

Faded tattoo

Client is at a different point in their life (i.e., new parent, tattoo's is meaning no longer representative of them
Target Your Audience with Digital Marketing Channels
Believe it or not, it is possible to help people who've experienced some of those examples of tattoo regret find your service. Digital marketing channels offer audience targeting options and tools that no traditional advertisement can (this isn't to say you should drop traditional ad channels entirely — they may actually be more effective when combined with digital marketing channels).
From social media platforms to search engines, you'll be sure to find some digital marketing channels that align with your budget and goals.
Contact OppGen to learn more about which of these channels would be most effective for your clinic.
1. Use Facebook Ads to Find Laser Tattoo Removal Prospects 
Facebook Ads, as a marketing channel, has some of the best audience targeting options. You can use some of those common tattoo regret reasons when pushing ads to users.
For example, you can have ads be shown to someone whose relationship status is set to "it's complicated," "separated," or "divorced," as these are people who are most likely to have gotten a tattoo of their ex's name. You can also make sure that these single prospects are also interested in tattoos (and are therefore more likely to have them) using interest-based targeting. If they follow or like several tattoo parlor pages, then they probably have gotten a tattoo.
Using these reasons for tattoo regret in a strategic manner can help make sure you're targeting the right people.
2. Help Local Laser Tattoo Removal Prospects Find Your Business Online With Search Ads and SEO
Search engines like Google, Bing, and Yahoo, allow you to advertise your business online, right on their search engine results pages (SERPs). Search ads, often referred to as pay-per-click ads or PPC because they incur a charge whenever someone clicks on the ad, are found at the top and bottom of search results.
PPC ads don't appear at random. They are only displayed when a prospect searches for keywords and phrases you've selected. You also determine how much you pay per clickthrough a process called keyword bidding, in which you decide the amount you'll pay per click. But if you bid too low on keywords, it will affect your ad's placement. Ideally, PPC ads should be on the first or second page of search results, as hardly anyone goes to Page 3 and beyond.
Another search strategy is SEO, or search engine optimization, in which you optimize your website to rank higher on SERPs without paying a cent to the search engine itself. To get started with an SEO strategy, you'll need a fast website that works well on mobile devices, creating accounts on Google My Business, Yelp, and other relevant directories.
3. Create Excellent Content for Laser Tattoo Removal Prospects
There are many fears people have when it comes to laser tattoo removal: Will it work? Does it hurt? Is it worth it? How much does laser tattoo removal cost?
You can answer these questions (and many, many more) through blogs, podcasts, and videos on your website.
Creating these kinds of content can help you rank higher on SERPs, especially when it's informative, thorough, and well-written or well-produced. Search engine bots recognize higher quality content and rank the pages hosting said content higher. It's also important to note that these bots are capable of reading content closely to how we do, so write in a way that is easy for both prospects and search engine bots to digest.
Be sure to keep keywords in mind, as well as what keywords and phrases prospects will be using when searching for laser tattoo removal services. Using a website like Ahrefs to see what keywords are easier to rank for and have more people searching for them can be a huge help.
Learn more about OppGen's SEO program by contacting us today.
4. Retarget Website Visitors
When targeting laser tattoo removal prospects, it's likely they will encounter digital advertisements for your services several times. They may even click on an ad, go to your landing page, but then not fill out the form for scheduling a consultation on that page. This specific action (or rather, the lack of taking the desired action after going to a web page) is known as "bouncing." When a prospect bounces, you'll want to persuade them to return to the page they left and finish filling out a consultation form. But you can't exactly do that by reaching out to them with an email telling them to return to the page and entering their information.
Instead, you'll want to rely on a strategy called retargeting (or remarketing). Retargeting is most effective when using display ads, a type of search ad. Unlike your typical search ad that's found on SERPs, display ads are image-based and can be found on other websites the prospect visits.
Even if a prospect doesn't click the display ad, that ad may still remind them to go back to the landing page and send their information to you.
Chances are, you've been retargeted at one point or another. One of the most common examples of this is online shopping. If you've left items in a website's shopping cart to go to another website, that website may have ads showing the products left in your cart. Their goal is for you to return to their site and go through the online checkout process.

5. Request Online Reviews
Reviews mean a lot to both businesses and consumers. Positive reviews can be something to mention when marketing your laser tattoo removal business. And for consumers, reviews give them a good idea of what they can expect from your laser tattoo removal service.
Claiming or creating listings on Google My Business, Bing Places for Business, Yelp, and Yellow Pages for your laser tattoo removal business makes it easy for current and former clients to leave reviews. 
Higher reviews are something search engines will notice and will give you a little bump up in the SERPs.
Try Traditional Marketing Strategies
As mentioned earlier, just because traditional marketing channels aren't as highly targeted as digital ones doesn't mean you need to get rid of the traditional ones entirely. In fact, combining traditional and digital marketing channels can be an incredibly effective strategy.
6. Run Print Ads or Press Releases
Running print ads in local publications, such as a newspaper or potentially a magazine, may be an option. If not, you may be able to send your local newspaper a press release when something newsworthy is happening at your laser tattoo removal business. For example, hiring a new laser technician or adding a new service would be acceptable examples of a press release.
The key thing with submitting a press release is timing. It should not be sent on the day of the event or on the day you want it published. You'll have to plan things in advance, typically a few days ahead of when you want the press release published, depending on the size and distribution of the publication. 
Whereas print ads in newspapers and magazines cost money (and that price varies depending on a lot of factors: ad size, color, location, etc.), press releases do not cost anything to run. Keep in mind that it may not run the day you want it, either; you'll be at the mercy of the publishers and other newsworthy events that occur on the same day.
Still, if you know that members of your target audience are likely to subscribe to a print publication, it may be worth getting a print advertisement.
7. Advertise Special Deals and Promotions
Oftentimes, offering special deals or promotions can get more laser tattoo removal clients in through your doors. A special deal may involve a discount on a laser tattoo removal service during specific dates, for certain groups of people (i.e., a discount for military service members on the Fourth of July weekend), and so on. What that special deal is up to you, as you know the current state of your business and what discounts or deals you can (or cannot) afford to put out.
You can leverage special deals and promotions to entice more clients to leave reviews, too.  For example, you could ask current clients (who are still in the process of getting their tattoo removed) to review your business. In return, you could give them a discount on their next tattoo removal session or have their final removal session be free.
You can advertise these deals online using social media pages or online business listings. You could create a post on your laser tattoo removal business's official Facebook page or Google My Business listing (and any other listings or social media pages) sharing the details of your deal or promotion. 
Another option is utilizing a digital coupon service like Groupon, in which users can receive a coupon they can bring directly to your business and share that coupon with others who may be interested.
Contact Us For More Laser Tattoo Removal Marketing Strategies
Creating a digital marketing strategy for laser tattoo removal is well worth the investment. Digital marketing, with its targeting options, makes it easier than ever to find prospects who want to get rid of their old tattoo.
At OppGen, we've helped tattoo removal businesses come up with effective digital marketing strategies and help those clients execute them. Our clients often see an increase in consultations and laser tattoo removal sessions as a result of our laser tattoo removal marketing strategies.
For more information about how we can be of help to your laser tattoo removal business, contact us today or fill out our free digital audit. We hope to hear from you soon!