The cost of pay-per-click (PPC) ad campaigns vary from industry to industry, and unfortunately, legal advertising is the most expensive industry for PPC search advertising. Worse yet, personal injury law is perhaps the most expensive subcategory in PPC legal advertising.
For personal injury law firms that are on tighter budgets, this might mean search ads may not be the best option for digital marketing. But there are other, more affordable options.
One of the best affordable options for advertising your personal injury law firm is to go down the social media ad route. More specifically, utilizing Facebook Ads.
Before you can start a Facebook Ad campaign, you'll have to create a business page for your law firm.
This blog will go into detail on how to set up a Facebook business page and how to create a successful Facebook advertising campaign. But if you don't have time to delve into the details, we encourage you to contact us.
How to Set Up Your Personal Injury Law Firm's Facebook Page
Having a Facebook business page can help you share valuable content, and best of all, it's free. It's also required if you're running an ad campaign on Facebook.
Setting up a Facebook page for your PI law firm is a simple process. Start by logging into your personal Facebook account — and don't panic; your personal Facebook profile's information will not be visible on your business page.
Get started by going to https://www.facebook.com/pages/create. There, you will be presented with three empty boxes: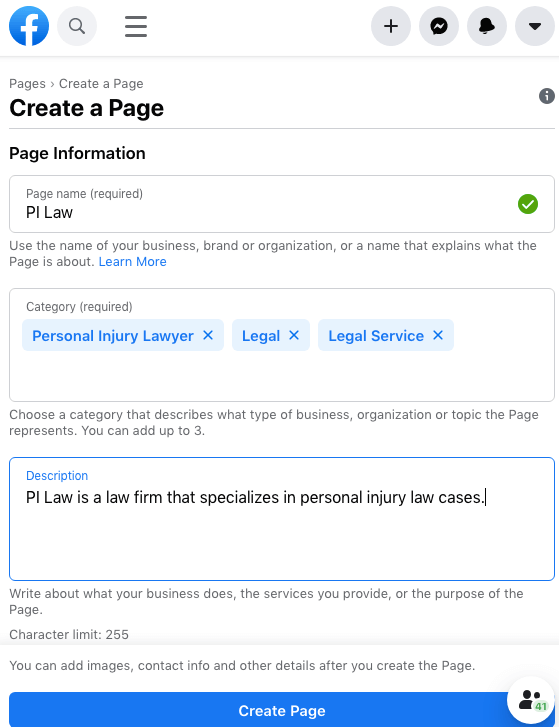 1. Type in Your Page Name
Your page name is simply the name of your business, so type in your law firm's name. Facebook requires grammatically correct capitalization for business page names, so an all-caps name is not allowed (though acronyms are perfectly fine). It also should not include your law firm's slogan, variation of the word "Facebook," unnecessary punctuation, or symbols (i.e., ™, ©, ®). 
Page names also can't be generic words or generic geographic locations on their own. The example name in the above image would probably be rejected because "PI Law" is likely considered generic; however if it were changed to "Columbus PI Law," it may be accepted because it is now more specific to a location. But "Columbus" on its own would also be rejected because generic location names are not allowed to have pages with managers.
2. Select Your Business Category
The category describes the kind of business you have and can be selected from a drop-down list. Start typing "Legal" and you'll see "Legal" and "Legal Service" appear on the list.
You can select up to three category options. For example, you can choose Personal Injury Lawyer, Legal, and Legal Service as your business categories for your personal injury law firm.
3. Write a Description
Unlike the last two text boxes, the description is not required; however, you should still fill it out with a brief description of what it is your business does. There is a limit of 255 characters for the description.
Then, click the "create page" button at the bottom of the screen. You cannot click on it until you've filled out the first two boxes. When it can be clicked on, it will change color from gray to blue.
4. Choose Images
You'll want at least two images: a profile picture and a cover photo. Be sure to test the cover photo on different devices (desktop, mobile phone, iPad) to ensure it doesn't crop weirdly.
The profile picture can be your personal injury law firm's logo — something that's representative of your law firm and its brand.
The dimensions for each type of photo are (in pixels):
Profile picture:

170×170 on computers; 128×128 on smartphones

Cover photo:

820×312 on computers; 640×360 on smartphones; minimum dimensions are 400×150. 
For profile pictures and cover photos that include a logo or text, Facebook recommends using a PNG file.
5. Add Contact and Business Information
Next up, you'll want to add your contact information, including your law firm's address, phone number, and email address. Feel free to include your business hours, too.
Make sure all of this information is correct; having incorrect contact information or the wrong address does not do your firm or prospective clients any favors.
6. Publish Your Facebook Business Page
Just because you created your Facebook business page does not mean everyone can see it. You'll have to publish your page so the public can see it.
If you want to add or change anything later on after publishing your page, you can do so by managing your Page Settings.
In the meantime, you are ready to start your personal injury law firm's Facebook advertising campaign.
Creating the Perfect Facebook Ads for Your Personal Injury Law Firm
Decide on Your Objective
In order to have a successful Facebook ad campaign, you need to set an objective — a goal with a particular outcome in mind. Facebook Ads has a list of different kinds of objectives, which will determine who will see the ads to some extent.
The following objectives are the most relevant to a personal injury law firm Facebook ad campaign:
Brand awareness:

This objective option shows ads to people who are most likely to pay attention to them.

Reach:

This objective balances your budget while reaching as many people as possible in your audience. 

Engagement:

This objective focuses on getting more people to follow your page or engage with your page's posts. Comments, likes, and shares are the main types of engagement on Facebook.

Traffic:

This objective's goal is to increase the number of people visiting your website.

Lead generation:

This objective is about progressively nurturing prospective clients to contact you to take their personal injury case.
Select Your Audience
Facebook Ads has some of the best audience targeting tools and is far more accurate than search ads. Search ads are great for finding prospects who are searching for your services, but they don't exactly target specific audiences.
Facebook's audience targeting tools includes the following targeting options:
Location
Both search ads and Facebook ads target audiences based on location, which ensures your ads are going to be seen by people in your neighborhood. 
Sex
While needing a personal injury lawyer isn't a gender-specific trait, you may find that men or women respond better to one of your Facebook ads than others. You can then target that ad and have it pushed toward a more responsive audience.
Age
Age-based targeting may be more effective for some areas of personal injury law than others. For example, personal injury law firms that have worked in senior home abuse cases may find this targeting option more useful than a workers' compensation attorney.
Job title
Some jobs are more inherently dangerous or risky than others and are more likely to result in accidents and workers' comp cases. Truckers may also be at greater risk for accidents than those holding other occupations. You can use Facebook's ad targeting tools to your advantage and find people who work in these types of jobs.
Interest
Interest-based targeting may be one of the most useful tools for personal injury lawyers. Suppose your practice specializes in motorcycle accident cases. A prospect who enjoys motorcycling may follow motorcycle companies like Harley Davidson and Yamaha on their Facebook account.
Interest-based targeting will push your personal injury law firm's relevant ads to this Facebook user.
Behavior
Behavior-based targeting uses information like a prospect's prior purchases and device usage to determine which ads to show them (i.e., if they use their smartphone during a certain time of the day, then they'll see the mobile version of the ad during those times).
Lookalike Audiences
The lookalike audience targeting tool is one of our favorite options. You simply take the demographics and psychographics of your best clients, and Facebook will push ads to new people who have similar features to those clients.
Choose Your Ad Format and Location
For some people, asking whether content or design should come first is like asking if the chicken or the egg comes first. Some people say content (in the context of a Facebook ad, the text) and others say design (ad format and location).
Regardless of your answer, both content and design are important when designing ads for your Facebook campaign. But if you're new to Facebook ads, we suggest starting with the design aspect because each kind of ad and location have different character limits.
In terms of locations, Facebook ads have a lot of options, which the Facebook Ads Manager platform refers to as placements. Facebook ads can be placed in the following locations on either mobile or desktop browsers:
Facebook newsfeed

Facebook Marketplace

Video feeds

Right column (desktop only)

Facebook Messenger inbox

Instagram feed

Instagram Explore
And there are also mobile-only ad options, too:
Facebook Stories

Instagram Stories

Messenger Stories

In-stream videos

Facebook search results

Facebook Instant Experience articles/ads

External apps
Ad placements affect quite a few things other than the character limit, too; photos for certain ads will likely be resized on a different device. Some placements cost more and less than others. If you're not sure which placement is best, Facebook does offer an automatic placement option that delivers ads to the right people on your allotted budget.
However, it's worth considering working with a marketing agency that specializes in creating Facebook and other social media ads for lawyers and knows which placements are best, rather than sticking with automatic placements. 
It may also be well worth your time and budget to work with an agency to design Facebook ads for your personal injury law firm. Facebook ads rely on some degree of creative work with images and video, depending on the ad format you select. Plus, experienced marketing agencies know the rules of advertising on Facebook and are less likely to have their ad rejected on the first submission.
Here's a quick rundown of Facebook ad formats:
Single Image Ads
Single image ads use a single image. The expression "a picture is worth a thousand words" is pretty accurate here. Because you're allowed to use one image, make sure it's one that is powerful and high quality. To add an extra level of interactiveness, take a 360-degree picture.
Copy is also important here, too, but remember, it's the image that will grab people's attention.
Carousel Ads
Carousel ads are similar to single image ads except they are essentially a slideshow of up to 10 single, smaller images or videos in an ad. Each slide can have a different link and text below. 
Carousel ads can be used to tell a story in each frame or share multiple client testimonials in one single advertisement. Another option is to use a single image and divide it into different slides.
Video Ads
Video ads on Facebook typically run up to 15 seconds long, but they can run much longer than that. But if you're going to go with the 15-second video ad, you'll have to grab viewers' attention with a strong pitch. Quality is a must here, too, so be sure to have a good editing program on hand. Or, have them professionally filmed, edited, and produced.
Like single image ads, video ads also have the interactive 360-degree option.
If you don't have the budget for a high-quality ad, that's OK. Facebook also allows video ads that use static images rather than video footage.
Instant Experience Ads
Instant Experience ads are only used on mobile devices, in which it opens to a full-screen view, which allows prospects to browse images and products, watch a video, fill out a form, or a combination of these.
Facebook has pre-designed templates for Instant Experience ads, which makes it accessible to just about anyone.
The big thing with Instant Experience ads is to have a really powerful pitch to bring prospects into the ad. This means you need to give them a really good reason to click on the ad.
Write Ad Copy
Copy is required for just about every Facebook ad, and each ad has a few different areas where you'll have to have text. Each ad format also has different specifications regarding character limits, so pay close attention when creating copy for an ad.
The most important part about writing ad copy is including something of value and a clear call to action, or CTA. CTA is so important that one of the text boxes on a Facebook ad is called a CTA button. CTA buttons can be customized, so you do not have to stay with what it originally was. It's actually better to change it so it fits your goal.
Set Your Budget
Facebook Ads, like Google and Bing Ads, relies on you to set a budget, which is the total amount you're willing to spend. You can decide if you want this amount to be determined on a daily basis or over the lifetime of the ad campaign. You can change your budget at any given time, and you'll never go over the budget you set.
Depending on your objective, you'll only have to pay whenever an action is taken that meets your objective. For example, if your objective is based on expanding your personal injury law firm's overall reach, then you'll be charged whenever someone sees an ad (this includes someone scrolling past it). Or if you're trying to convert more clients through a lead generation strategy, then you'll pay per click.
Also similar to paid search ads, you'll also have to bid on your ad.
It's a lot, we know. Luckily, OppGen can handle all of this for you — and more. Click here to learn more.
Go to the Facebook Ad Auction
You won't actually have to go or be present for an ad auction. Facebook's ad auction is used to determine the best ad to show to a user at a certain point in time. This means your ad will be competing with other advertisers who are targeting people in the same audience your personal injury law firm is.
The ad with the highest total value will win. There are 3 factors that determine an ad's total value:
Bid:

This factor takes into account how much you were willing to pay for an ad's placement.

Estimated action rates:

This factor is based on an estimate of whether or not someone will engage or convert from an ad. The more likely someone is to convert on an ad, the better.

Ad quality:

This is why having a professional that knows Facebook's ad platform creates your ad really makes a difference. The quality of an ad is determined by viewers' feedback and assessment of anything that might make the ad considered low-quality (i.e., clickbait, not sharing all information available, exaggerated claims, etc.).
That said, not all ad auction winners will win based on how much money an advertiser bids; sometimes, having higher quality ads will beat out the highest bidder.
Publish Your Personal Injury Facebook Ad
Once your Facebook ad has gone through this process and has been approved, you can go ahead and publish a Facebook ad for your personal injury law firm. But the journey of publishing an ad doesn't end there.
Track and Tweak Your Ad's Performance
Facebook gives you the ability to track your ad's performance in terms of engagement, impressions, and more. If your ad isn't performing as well as you'd hoped, you can edit it.
Contact Us for More Tips About Facebook Ads for Personal Injury Law firms
For more ideas on how to create successful Facebook ads for personal injury law firms like yours, contact us today, or fill out our free digital audit. Our digital audit can help give you a better idea of where your personal injury law firm needs to improve its digital presence and how we can help you do just that.