Thanks to the advent of digital marketing, small and local businesses can advertise on an even playing field along with large companies, franchises, and corporations, helping them generate more leads at reasonable costs.
Google Ads has made targeting local leads seeking specific services easier than ever. But as Google Ads becomes more competitive and the cost per click rises in certain industries, it may be wise to look to other advertising options for generating local leads.
That's where local services ads come into play.
What are local services ads?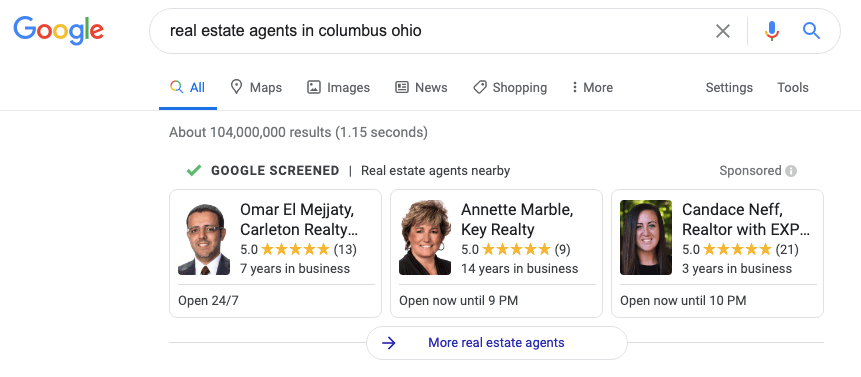 Local services ads are a relatively new advertising options Google offers to certain kinds of businesses. Local services ads can help prospective customers in your area — local leads — find you and easily contact you for your business's services.
What kinds of local businesses can use Google local services ads?
Google has an expanding list of local business types that can utilize their local services ads. As of January 2021, the following kinds of local businesses that can use Google local services ads include:
Appliance repair

Architects

Carpenters

Cleaners

Lawyers

in the following practice areas: bankruptcy, business, contract, criminal, disability, DUI, estate, family, immigration IP, labor, litigation, malpractice,

personal injury

, real estate, traffic

Countertop services

Electricians

Event planners

Fencing services

Financial planners

Flooring services

Foundation services

Garage door services

Heating or air conditioning/HVAC

Interior designers

Junk removers

Landscapers

Lawn care

Locksmiths

Movers

Pest control

Photographers

Plumbers

Roofers

Siding services

Tax services

Tree services

Videographers

Water damage services

Window cleaners

Window repair services
Note that the list is likely to update periodically, so keep an eye on Google's local services ads support page for the most up-to-date information.
Benefits of Google local services ads
Google local services ads have many benefits that other digital advertising options do not, such as:
You only pay for results
This is the biggest advantage Google local services ads offers compared to other digital advertising channels. Most ad channels rely on a pay-per-click (PPC) model, which requires you to pay whenever a lead clicks an ad, regardless of whether or not they convert (i.e., fill out a form, make a purchase, schedule an appointment, etc.). It's entirely possible for a lead to click on an ad and do nothing else from there.
Google local services ads use a pay-per-lead model, which means you only pay for leads related to your business. Here, leads are defined as prospects who call the phone number listed on your local services ad. In the event in which you end up with an unrelated or bad lead, you can dispute that lead with Google and get the money you lost on that lead back.
More options for your business's budget
Local services ads offer 2 budgeting options, allowing you to select the option that works best for your local business and its budget.
Maximize leads:

You can set a weekly budget with the goal of getting the highest volume of leads possible.

Pay per lead:

You can set the highest amount you're willing to pay per lead. Google will then provide an estimate based on the market of how much you can expect to spend in a week and how many leads your business may receive.
Higher visibility
To create local services ads, you'll need to set up a Google My Business page. When you create this page, make sure that your phone number is correct because the ads will use the phone number listed on your Google My Business page.
Local services ads are located at the top of Google search results pages (SERPs), which makes them easy for prospects to find. They're placed in a higher position than Google search ads, which is a huge advantage.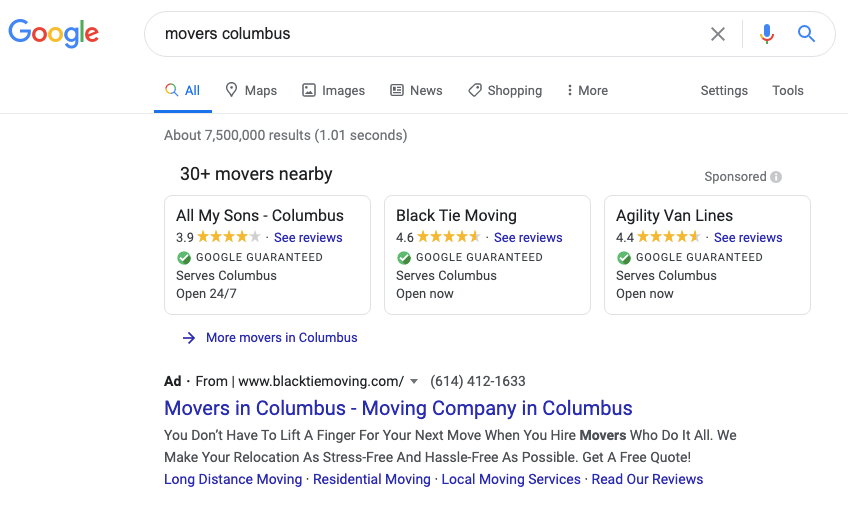 These ads are set in a slideshow-like format, displaying the top 3 relevant services in your area. To view more ads, you click the "more" button.
Ideally, you'll want to rank in the top 3 ads. Your ranking is determined by these factors:
How close you are to prospects' physical locations

Your reviews and the number of reviews you have

Responsiveness to customers through the Local Services Ads app

Business hours

Whether or not Google has received serious or several of the same complaints about your business

The context of a prospect's search (search history and terms, when they searched, and other signals)
To land a spot within the first 3 ads, make sure your local business is listed under the relevant type of business, encourage your clients to write reviews, give excellent service, and respond quickly and efficiently to customers.
Some of these factors are out of your control to some extent, such as the prospect's location or when they searched for relevant services (you can't control when a prospect searches for a service outside of your business hours). 
Still, focus on what you can control (relevant listing, reviews, excellent service, and quick responses), and you'll likely end up in a good position!
Compete on a local level
With paid search on Google, you may not be able to rank as high easily depending on your specific industry. For example, the cost per click for personal injury law ads on Google's SERPs are among some of the most expensive. Just one single click on one of these search ads can deplete a monthly budget! Not to mention you may be facing more difficult competition with companies competing for the same or similar keywords, and some of these businesses may have larger marketing budgets, so the cost per click isn't a huge concern for them. If there's a lead that falls through and doesn't get back to them, it's not nearly as much of a loss as it would be for smaller businesses at the local level.
With local services ads, you don't have to worry about competing with bigger national businesses — you'll be competing within a smaller, more balanced level with nearby businesses. If you happen to be the only business within a certain area offering a certain service, that means you'll likely find yourself generating more leads. And even if there are more businesses like yours, not all of them are aware of this new ad type that can put you on top!
Verified badge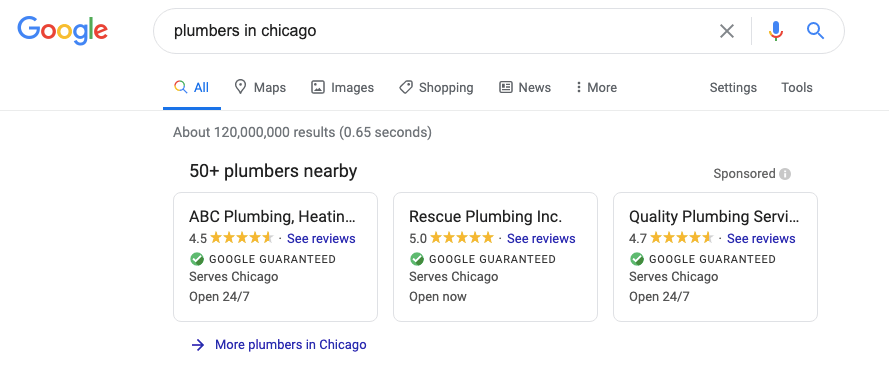 All businesses that want to start using Google local services ads are required to undergo a background check. The required information for background checks varies depending on the type of business you have. For example, if you're a lawyer, you'll have to prove that you and your fellow lawyers have passed the bar. 
Having a checkmark next to your business's name adds credibility to your business, which will help people seeking your services trust you and be more likely to reach out.
No landing page or website required
Although we can't stress the importance of having a website for your business enough, not all small or local businesses have one. If you're website-averse but still want to get into digital advertising, local services ads are the perfect option!.
Landing pages or websites aren't necessary with Google local services ads. Rather than submit their information for an appointment through a landing page, leads can book an appointment or schedule services through Google local services ads. 
Contact OppGen to generate more local leads
OppGen is a digital marketing agency located in Columbus, Ohio, that has helped several businesses at both local and national levels generate more leads. We've helped our clients by setting up Google My Business accounts and assisting them with the Google local services ads background check process, among other digital marketing services. 
We would be more than happy to help you get started. Contact us today for more information.