Law firms that aren't using search engine optimization (SEO) as part of their digital marketing strategy are missing out. 
SEO helps your law firm's website rank higher on search engines, increases your visibility with your target audience, and brings your firm more clients through organic searches.
Our law firm SEO checklist will help your firm get started with optimizing your website and kick off your SEO strategy to help increase your organic visibility and traffic from Google and other search engines. 
For even more SEO optimization advice for your law firm, contact us today.
Table of Contents
What is SEO?
SEO is the strategic work done on, off, and behind the scenes of your website to help you rank higher on Google. The goal of SEO is to increase the quality and quantity of organic traffic your firm brings to your website. 
SEO involves everything from improving the speed, responsiveness, and user-friendliness of your website to targeting the keywords and phrases your ideal clients are searching for on Google, and more. 
Why is this so important for law firms?
Because when your potential clients need an attorney, they go to Google first.  
Let's say run a personal injury firm in your area. When potential clients need an attorney, they'll go to Google first, even before they'll reach out for personal recommendations. 
They'll look for attorneys by searching for terms and phrases like "personal injury attorney near me" or "car accident lawyer in my area." 
The better your SEO, the higher you're going to rank for searches like these and others related to your practice area and services. The better you rank, the greater the odds that these clients will come to your website, vs. your competitors. 
3 Pillars of Law Firm SEO
Your law firm SEO strategy needs to cover the three key pillars of SEO in order to be successful.
1. Technical SEO
Is your website fast and user-friendly? Does it work well on mobile devices? Is it easy for Google to crawl and index? 
If SEO work was described as a car, your technical SEO would be everything under the hood that makes your car fast, smooth, efficient, responsive, and fun to drive.
2. On-Page SEO
Your law firm's on-page SEO addresses the visible content on your website. 
On-page SEO involves optimizing your practice's website content for relevant keywords that your target audience is searching for. Effective on-page SEO strategies naturally incorporate keywords and phrases your target audience is searching for to find an attorney, directly into your website copy and text. 
Quality on-page SEO content starts with… 
Answering your client's questions, in regards to your practice area and services. 

Providing solutions to their problems that your firm is uniquely qualified to handle. 
3. Off-Page SEO
This aspect of SEO addresses other websites on the internet that link to or reference your firm's site. The more authoritative and relevant websites you have linking back to your website, the more credibility you build with Google and your audience.
You can build your own off-page links by creating business profiles on helpful directories such as:
Now that we have the pillars of SEO covered, let's jump into setting up with your law firm SEO checklist…
Law Firm SEO Basics
This section focuses on getting the most important tools, accounts, and profiles you'll need for analyzing and improving your SEO. 
We'll be covering how to… 
Set up Google Analytics for your law firm

Set up Google Search Console

Connect Console and Analytics

Install an SEO plugin on your website
The set up of a solid SEO strategy can be complicated and overwhelming. Especially if you haven't done this before. 
If you need professional assistance and support with your law firm's SEO strategy, schedule a strategy call with our SEO team at OppGen today. 
Set Up Google Analytics for Your Law Firm 
Google Analytics gives your firm the ability to track key data that's tied to your SEO and website performance. These tools help us track valuable data like: 
How much website traffic you're getting. 

What pages your visitors are going to or finding the most helpful. 

How and what channels your visitors use to find you. 

Phone calls, contact form submissions, and chats that potential customers are making through or on your website.
To track this valuable data, you need to have a Google Analytics account.
Start by going to google.com/analytics and either create an account by clicking "Start for free" or sign in to your Google account by clicking "Sign in to Analytics."
Set Up Google Search Console
Once you've finished setting up your law firm's Google Analytics account, it's time to set up Google Search Console. 
Google Search Console is another free Google service that allows you to monitor and troubleshoot your website's appearance and performance. You can use it to find and fix technical errors, submit sitemaps, see backlinks, view queries people are using to search for your law firm, and much more. 
After setting it up, be sure to link your Google Search Console and Google Analytics account for advanced tracking and deeper insights into your law firm's website data and performance. 
Install an SEO Plugin on Your Website
Another quick, easy, and free SEO win for your law firm is installing an SEO plugin on your website. 
Our preferred website creation platform is WordPress, which powers around 40% of all websites on the web. They have some of the industry's best free and paid SEO plugins for websites.
The most popular, widely-used, and highest-rated SEO plugins on WordPress include:
Only download and activate one of these plugins to use on your law firm's website. There are tons of great training resources for each of them you can find online so that you can start improving your law firm's SEO.
Technical SEO Checklist for Law Firms
As we mentioned, technical SEO focuses on the technical aspects of your website, like site speed, design, responsiveness, user-friendliness, and mobile performance. These are all ranking factors search engines consider when ranking websites.
Two core aspects of technical SEO are:
Making sure your law firm's website is mobile-friendly

Monitoring and optimizing your website's speed
Make Sure Your Website is Mobile-Friendly
Your ideal clients use search engines on their phones more than any other device. 
In fact, 54.4% of all website traffic in Q4 of 2021 came from mobile. 
Your law firm's website has to be mobile-friendly. This is one of the first things Google takes into consideration when crawling your website and configuring how to rank it.
A mobile-friendly site is one that loads quickly and is easy to navigate on any mobile device. Keeping a simple, uncluttered, straightforward website design makes a huge difference in increasing site speed and creating a better user experience on mobile devices.
How can you see if your website is mobile responsive?
Start with running your website through Google's Test My Site Tool. This will give you direct feedback from Google on how your website is performing on mobile, and what you can improve.
Next, you can use Google Chrome's free inspection tool to see what your website looks like on a variety of mobile devices. 
All you need to do is… 
Go to your website.

Right-click anywhere on the page.

Then left-click on "Inspect."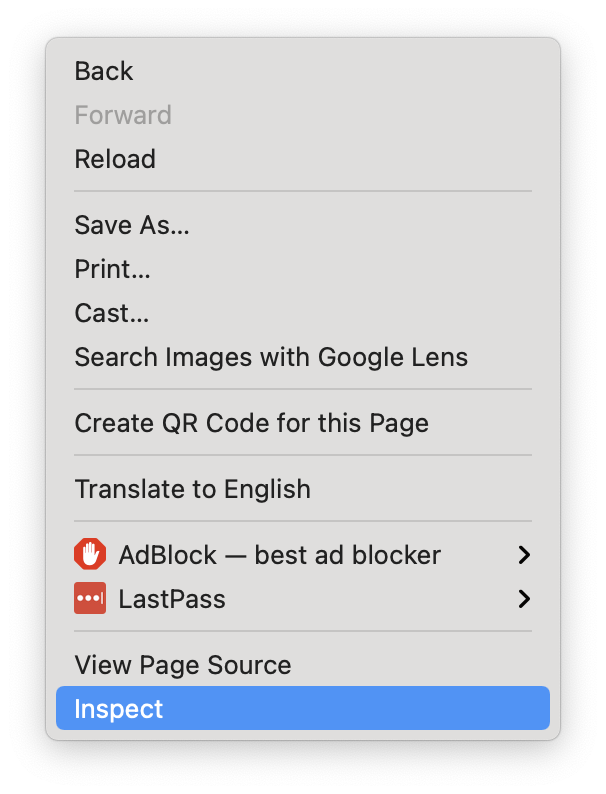 Google will reload the page in its Inspect view.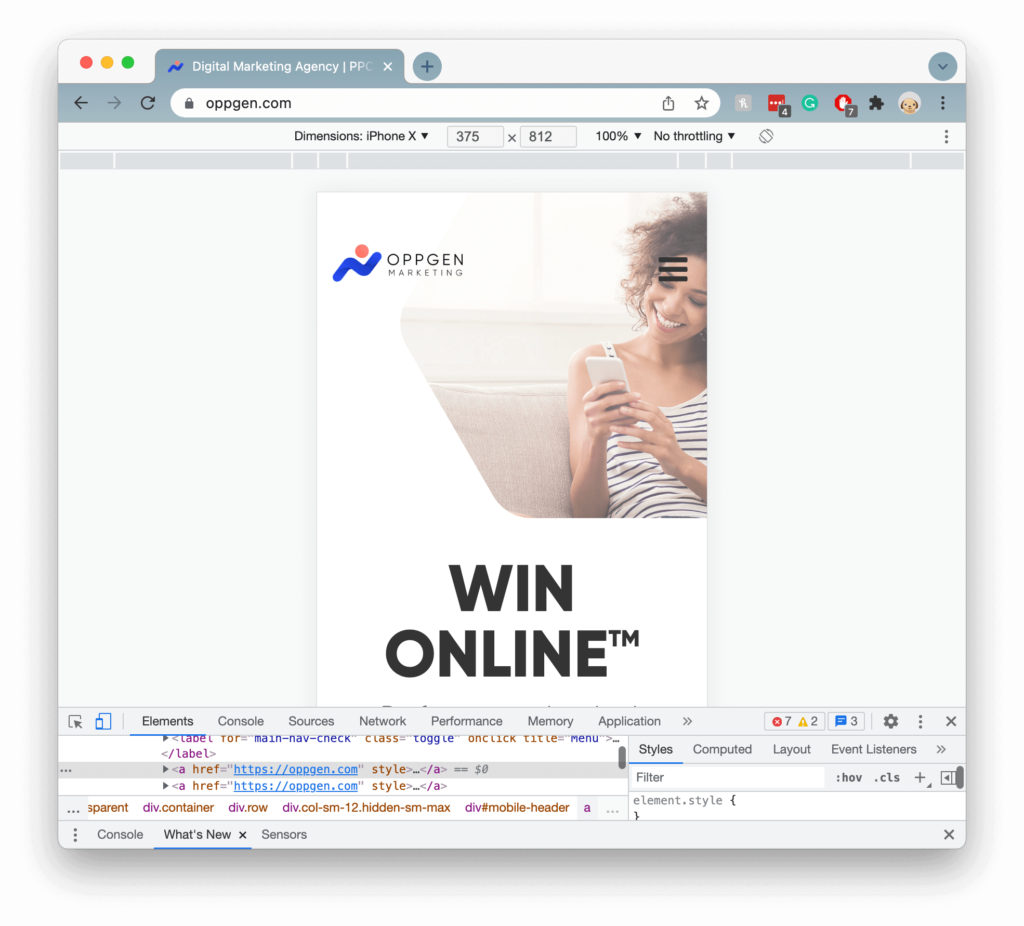 At the top of the page, you'll see a thin white bar that says "Dimensions" along with the name of a mobile device that your browser is simulating (such as an iPhone X). This means you are looking at your website as it would appear on the mobile device you've selected. 
Next to the name of the mobile device, there is a small triangle. Click it for a dropdown list of other mobile devices. You can test different types of mobile devices and their different dimensions (your website will look different on an iPad Pro vs a Galaxy Fold phone).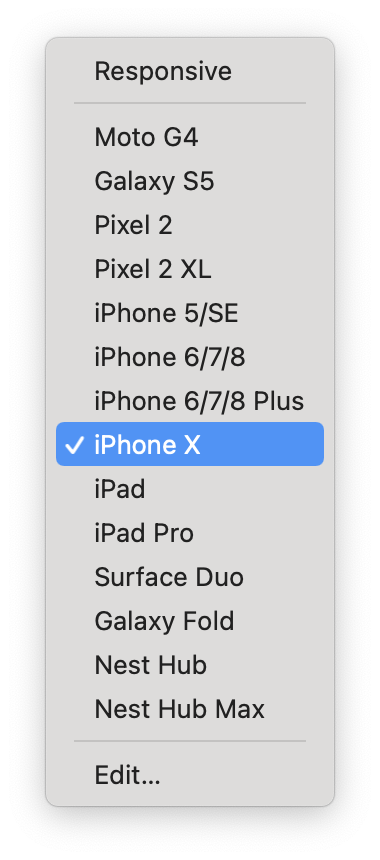 The Inspect tool makes it easy for you to see what your website looks like on mobile devices and if there are any issues with your website's mobile version.
Check Your Law Firm's Website Speed
Speed is another critical website ranking factor for Google. Your law firm needs to be fast and load quickly to rank. The slower your website, the bigger of a detriment it is to your SEO. 
In fact, mobile responsiveness and speed alone can be the difference between ranking on page one for your target keywords and phrases, to not ranking at all. 
To check your site's speed, go to Google's Page Speed Insights tool and enter your website's URL and click "Analyze."
Google's Page Speed Insights tool will rate your website's speed, and give you detailed notes and steps on how to improve it. 
Keep in mind that the Page Speed Insights tool inspects a single page at a time, so you will want to eventually run speed tests on all pages on your website. 
Pro Tip: Use your Google Analytics to uncover what pages on your website generate the most traffic. Run a speed test on those first to see what you can improve to help them rank better.
Need help improving your law firm's site speed and mobile-friendliness? 
Contact our SEO team at OppGen today for a free SEO audit of your law firm's website.
Make Sure Your Firm's Website Pages are Secure
Google (and your website visitors) need to see that your website is secure.
If your website URLs are still using HTTP, you need to make the switch to HTTPS. 
HTTP URLs are a sign to Google and your audience that your site pages are not secure. 
This puts your firm at a major disadvantage for ranking. It also makes your website more hackable, so it's a security breach waiting to happen. If your law firm's website may contain highly sensitive firm or client information, you need to secure your website. 
If you've made the switch over to HTTPS from an HTTP site, be sure that you set up 301 redirects that forward your website visitors from your HTTP pages, to the HTTPS address.
On-Page SEO Checklist for Law Firms
Like we mentioned earlier, on-page SEO is all about your website's content. Out of all of the different pieces of SEO, you have the most control over on-page SEO.
Keyword Research and On-Page SEO and for Law Firms
On-page SEO encompasses the content and pages you create and publish to your law firm's website. 
It involves optimizing the pages of your website by strategically incorporating keywords and phrases your target audience is using to search for your law firm on Google. 
These are the exact terms your target audience is using when searching for a law firm or attorney in their area. This is why keyword strategy is a critical piece of law firm SEO. 
Thankfully, there are a plethora of tools you can use to aid you in keyword research. We recommend investing in an industry-leading SEO and keyword tool like ahrefs or SEMrush. 
These pieces of software not only help you identify what keywords your target audience is searching for, but also have a full suite of tools for helping your firm with on-page, off-page, and technical SEO as well.  
Off-Page Checklist: SEO for Law Firms
Off-page SEO has a few major components:
Building out a strong network of backlinks on other, credible websites, which link back to your firm's site.

Creating profiles on relevant online directories like Google Business Profile, Yelp, Avvo, FindLaw, and social media. 

Managing your law firm's reputation on those directories.
These steps work to increase your firm's online visibility and reputation, both of which are critical to ranking on search engines. 
Some important steps for getting started with off-page SEO for law firms are:
Setting up your Google Business Profile page

Adding your law firm to relevant legal directories and listings

Posting content to social media

Encouraging happy clients to leave positive reviews for
Set Up Your Law Firm's Google Business Profile Page
A Google Business Profile (formerly Google My Business) is a must for any business. These free listings allow you to respond to client reviews, post updates, and put your law firm's location on the (Google) map.
Google has some simple steps you can follow to set up or claim your law firm's Google Business profile. 
Add Your Law Firm to Online Legal Directories
One important off-page SEO ranking factor is link building. Link building is when other websites have links that send users to your website.
Google and other search engines delineate between trusted websites and resources vs. ones lacking credibility. You want sites with credibility and authority to link back to your website. 
The more credible sites you have linking back to your law firm's website, the greater credibility you build with search engines.
The challenging part is that it's difficult to ensure high-domain authority sites will link to you. 
That's where legal directories come in. 
Many online legal directories have established domain authority and credibility, which is why it's important to create a business profile for your firm on these directories (Avvo, Findlaw, etc.). Plus it makes your law firm easier for prospective clients to find. 
Post Content to Social Media
Along with creating listings on legal directories, you can also start building up more backlinks by posting content to your law firm's social media pages on a regular basis.
Encourage Clients to Leave Positive Reviews
Now that your law firm has a Google Business Profile, legal directory listings, and social media pages ready to go, all that's left for you to do is ask your happy clients for reviews. 
Getting as many glowing 5-star reviews as possible tells search engines your firm does great work. In turn, they'll reward you with better visibility on search engines results pages, and in the maps section of local search results. 
Improve Your Law Firm SEO with OppGen
Law firm SEO is an ongoing process and a full-time job. It requires staying up-to-date on the latest Google algorithm updates and SEO best practices. It's a responsibility that requires the expertise of a skilled law firm marketing partner. 
At OppGen Marketing, we have a dedicated SEO team with years of experience in law firm SEO.
Schedule a strategy call with our team today so we can help you improve the digital footprint and online visibility of your firm.